You can save the settings as a preset and reuse them for processing other RAW files. You can use the settings of one tab or several tabs for creating a preset.
Find all available presets in the drop-down Presets list.
If you modify any settings, the preset name automatically changes to Custom, and the Save Custom Preset button

appears next to the list. Click

to save the current settings.
A new preset is automatically assigned a name that can be changed by entering any combination of letters and numbers in the highlighted field. Press the Enter key in the name edit mode (while the cursor there is in the preset name field). This will open the New Preset dialog where you can adjust the parameters for the preset.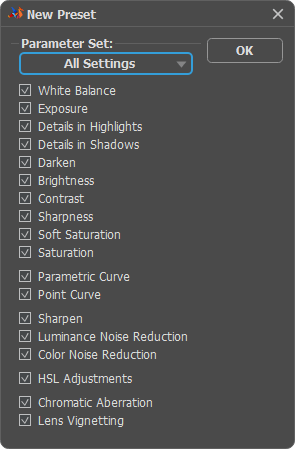 Select the parameters that will be recorded in the preset: either all settings or parameters of a certain tab.
You can also manually enable the check-boxes next to the names of the desired parameters or groups of parameters. The values of the selected parameters will be recorded in the preset.
Click OK to save the preset.
Attention! When you select a preset, the values of the parameters that were not recorded in the preset will be reset to default values.
Click

to export your presets to a .presets file. To load the file with the presets into the program, press on

.
To remove your preset, select it from the list and click

.