Read the tutorial below to learn how to use the alignment tools to move and precisely position objects (layers). You can also watch our video tutorial.
Rulers are shown along the edges of the Image Window. Guidelines (as well as the Grid) are nonprinting supporting horizontal and vertical lines which are displayed over the image (they will not appear on the final result).
To create a horizontal/vertical guideline, place a cursor over a corresponding ruler, and holding the left mouse button, drag a blue line which appears under the cursor. You can move the guidelines with the Move tool

(the cursor will turn into

).
To create a copy of a guideline, hold down the Shift+Alt keys while moving it.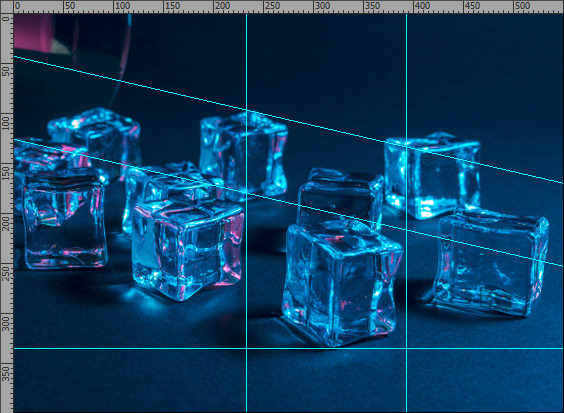 Guidelines
To remove a guideline, drag it outside of the Image Window.
To adjust the alignment settings, use the Workspace menu in the Control Panel:
Rulers. When this option is enabled, you can see the rulers along the edges of the Image Window. Right mouse clicking on a ruler lets you select the units of measurement (pixels, inches, centimeters, etc.).

Marks on the rulers indicate the position of the cursor.

To change the origin (zero), place the cursor over the intersection of the rulers in the upper left corner of the Image Window and drag diagonally to the desired point in the image. To restore the default origin, double-click this corner.

Grid. When this option is checked, the grid appears over the image. The grid's point of origin depends on the rulers origin.
Pixel Grid. If this menu item is checked, a light grid outline is putted around each pixel once beyond 600% zoom level.
Guidelines. When this option is checked, the guidelines are shown. When the option is deactivated, the guidelines are not displayed and cannot be used for snapping.
Lock Guidelines. This option prevents repositioning of guidelines.
Clear Guidelines. This command removes all guidelines.
Snap. This feature helps to precisely position the object which "clings", when moving, to the edge of a selected element. You can move objects within 5 pixels of the anchor point by rotating the mouse wheel while holding the left mouse button.
Snap To... In the drop-down list, specify elements to which to snap:

- Grid;
- Guidelines;
- Selection;
- Layers;
- Document.
Click

in the upper right corner of the program window or select File - Preferences... to open the Preferences dialog box. Switch to the Guides & Grid tab to adjust rulers, guidelines, and grids.