AliveColors allows you to convert a series of images from one format to another.
Select the command in the menu: File -> Automate -> Convert...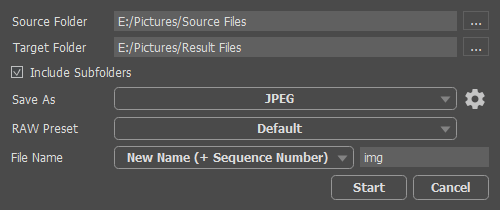 Batch Conversion
Conversion Options:
In the Source Folder field, choose the folder with original images.

In the Target Folder field, choose the folder to save the files.

Enable Include Subfolders to process all images in all subfolders of the selected folder (keeping the structure).

In the Save As list, select a file format.

Click to call up a dialog box where you can configure the saving options for the selected file format.

In the RAW Preset list, you can select one of the presets for processing RAW files during conversion. You can create new presets in the RAW Processing mode.

In the File Name field, specify the names of the output files:

Source Name - the processed files will be saved with their original names.
Add Suffix - the specified character set will be added to the original names.
New Name - the names of all files will be replaced with the specified name with the addition of a sequence number.
Click Start to run image processing. AliveColors will process all the images in the Source Folder, one by one, and will save them to the Target Folder with the selected format.
To interrupt processing, close the Batch Conversion tab.
Note: File conversion does not block the program interface, so you can simultaneously edit the other images.