The File Info panel captures basic file metadata.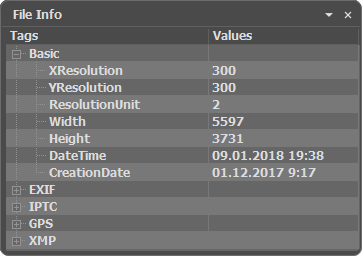 The information is divided into the following sections:
The Basic section displays the basic information about the image.

The EXIF section contains details about the capture recorded by the camera (automatically generated at the moment the picture is taken) including camera model, aperture, exposure settings, etc.

The IPTC section contains information that is added by the photographer or others. It includes a brief description of the photo, authorship, keywords, etc.

The GPS section displays the geographical coordinates of the shooting location.

The XMP section stores additional information about the photo added by graphics programs.